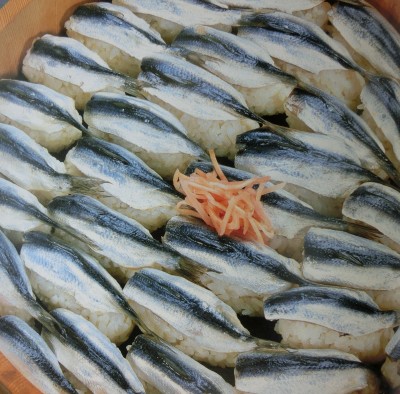 Okayama
So delicious that people go to the next door to borrow (kari) rice (mama)!
Mamakarizushi
It is said that this sushi was named mamakarizushi because it was so delicious that rice run out and people needed to go to the next door to borrow (kari) rice (mama). This is an indispensable dish for festivals and people in Okayama always associate mamakari to mamakarizushi. In the south of Okayama Prefecture, people always go fishing to get mamakari to cook mamakarizushi, if the sea is calm on a sunny day, and also if there are festivals or family celebrations.

for 5 persons
rice

4 cups

dashikonbu

1 10cm-squre

water

about 4 1/2 cups
[ awasezu ]
vinegar

6 tablespoon

sugar

3-4 tablespoon

salt

1/2 tablespoon
[ mamakari ]
mamakari

10

salt

3%

vinegar

about 1 cup
vinegar

as needed

sugar

1 pinch

salt

1 pinch
1.

Wash fresh mamakari throughly, remove heads and cut up, pull back bone from the side of the tail and remove. Sprinkle 3% salt, and leave for 30 minutes. Wash off the salt with vinegar, soak in vinegar and leave for 20 minutes.

2.

Wash rice and soak in water with dashikobu, leavae for 30 minutes before cooking. Remove dashikobu before water starts boiling, and cook rice slightly firmer, and steam for 10 minutes when it gets cooked.

3.

In a sauce pan, heat sugar, vinegar and salt until sugar dissolved (awasezu), then pour over the hot rice and mix well.

4.

Once the rice gets cooled down, make a small piece of an oval rice ball like nigirizushi, put on wasabi, vinegared mamakari, and gently shape it.

5.

Cut ginger into thin stripes, then soak in a mixture of salt, vinegar and sugar. Place mamakarizushi on a plate, and garnish with ginger.
Information provided by : Okayama no Aji (taste of Okayama)