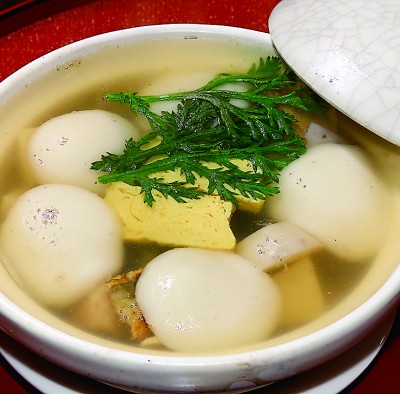 Nagasaki
A local specialty made in the Shimabara Peninsular, formerly the Shimabara Domain
Gu-zoni
A local specialty of the Shimabara Peninsular, formerly the Shimabara Domain. During the Shimabara Rebellion, rebel leader Amakusa Shiro ordered peasants to keep stores of provisions for the army. Ingredients were gathered from the mountains and sea to make zoni to feed the army during the three month battle.

for 4 persons
dashi stock

1.5l

Appropriate quantity of burdock, carrots, sato-imo, chikuwa, daikon, kori-dofu, potatoes, chicken, shitake, kamaboko, spinach, sliced kombu (kelp), Chinese cabbage, small mochi, etc.

as needed

koikuchi (dark) soy sauce

150ml
1.

Cut vegetables and boil in a niboshi stock

2.

Add soy sauce when vegetables are cooked

3.

Add Chinese cabbage, mochi and sliced kombu. When mochi become soft, top with kamaboko and spinach and serve.
Information provided by : Division of Agriculture, Agriculture and Forestry, Nagasaki Prefecture