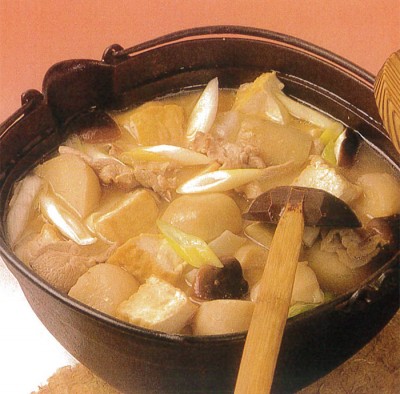 Yamagata
Autumn gathering on the beach to celebrate the harvest
Imoko Jiru (Shonai Style)
In coastal Shonai region, Imoko Jiru is seasoned with miso paste rather than soy sauce, which is the standard in inland Yamagata. It is commonly cooked with pork and deep-fried tofu that the locals refer to as "abura-age".

for 4 persons
taro

600g

thin slices of pork

400g

deep-fried tofu

1 bag

leeks

4

cups water

6

sake rice wine

4 tablespoons

sugar

4 tablespoons

miso paste

6 tablespoons

salt

a pinch
1.

Peel taro, cut them into bite-size pieces, rub them with salt and wash them with water before cooking them in boiling water.

2.

Cut pork slices into 4cm long strips. Cut deep-fried tofu into bite-size pieces, and leeks in diagonal pieces.

3.

Put water and 2 tablespoons of sake in a pan, and cook taro and tofu for six minutes.

4.

Add pork and the remaining seasonings.

5.

Skim off the scum and simmer.

6.

Add leeks when the taro pieces are cooked soft.
Information provided by : Yamagata cuisine recipe book Yamagata Kyodo Ryori Tanbo