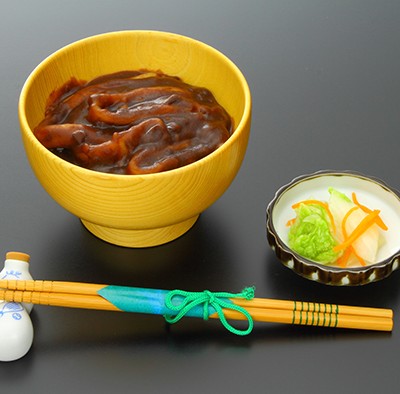 Iwate
A local specialty udon noodles in a lightly sweetened adzuki bean soup
Adzuki Batto
Azuki Batto is a local specialty served for rites and celebrations, such topping out ceremonies and harvest festivals. Locals used to eat it on the 7th day of obon, when families got together to welcome the return of the spirits of their ancestors. It is typically prepared in a big pot in winter months to serve to families and friends. Short, chewy udon noodles called hatto are simmered in lightly sweetened adzuki bean soup to be served with osuimono, a clear soup lightly seasoned with salt and soy sauce, and also with pickled and vinegared vegetables. It is also tasty when it is cold.

for 10 persons
[ Udon ]
wheat flour

500g

salt

2g

water

220cc
[ Adzuki soup ]
adzuki beans

450g

coarse sugar

200g

white sugar

100g

salt

2g
1.

Adzuki bean soup preparation
Wash the beans and soak overnight (refrigerate in summer).

2.

Drain the soaking water, put the beans in a big pot, add plenty of water, and put it on high heat. When it boils, drain, add fresh water, and put it on high heat again.

3.

When it boils again, reduce the heat to mid-high. Simmer for an hour with occasional mixing. Add water if needed - the beans should always be covered with water. When the beans are soft, turn off the heat, put a lid on the pot, and let it sit to cool until it is at body temperature.

4.

Drain, mash the beans, add 6 cups of water, and put it on mid-high heat. When it gets hot, add sugar and salt, and simmer at low heat for an hour. Mix constantly. It is done when the beans are glossy and the soup is thickened.

5.

Adzuki batto preparation
Put the wheat flour in a big bowl. Add salt and mix. Slowly add water in the middle of the flour, and mix it with chopsticks into a dough. Knead it well with hands for 20 minutes. Put the dough (it should be ball-shaped) in a plastic bag, and let it sit in the fridge for three hours and longer.

6.

Sprinkle flour on a kneading board, and roll out the dough using a rolling pin. It should be 2mm thick. Fold it into half, and keep folding it as if making a folding screen. Cut it into 1cm thick slices. Separate and loosen the slices, sprinkle flour so that they do not stick with each other. Cut them into 10cm long noodles.

7.

Heat the adzuki soup. When it gets hot, increase the heat and add udon, while mixing the soup. Make sure to get rid of the extra flour on the noodles before putting them into the soup. Simmer for 5 to 6 minute.
*When making the dish in bulk, you can cook the noodles separately and add them to hot adzuki soup.
Information provided by : Agriculture Promotion Division, Iwate Prefectural Office