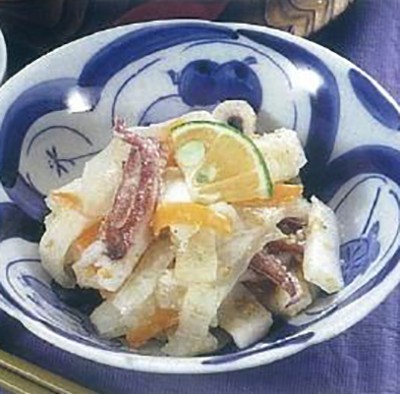 Saga
Vinegar and miso dressed foods. A real treat in fishing villages.
Kakeae
Kake-ae refers to dressing whatever ingredient in a miso and vinegar dressing. According to season, that ingredient may be squid, fish, daikon radish or cucumbers. It is eaten throughout the year as everyday food. This dish was considered a treat for fishing villagers and special versions served during festival time, making a name for itself across the prefecture.

for 4 persons
[ Kake-Ae ]
Small squid

2

Cucumber

150g

Carrot

40g

Toasted sesame seeds

1 tablespoon

Rice miso

1.5 tablespoon

Sugar

2 tablespoon

Vinegar

1.5 tablespoon
1.

Remove squid guts and blanch in hot water before slicing.

2.

Slice cucumber and carrots to 1 cm batons. Rub with salt.

3.

Grind sesame seeds in pestle and mortar. Add miso, sugar then vinegar (in that order) then add 1 and 2.
Information provided by : Saga Prefectural Manufacturer Support Division