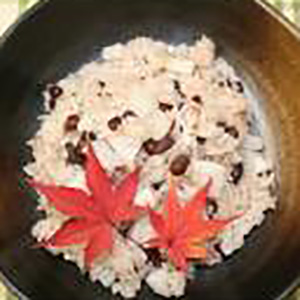 Oita
Cooked rice with azuki beans to think of Shinran saint
Itokoni
The dish which is made certainly at the memorial service as "lure lower back" which bears virtue of the departed of Shinran saint. Because the chemistry of the adzuki beans and the root vegetable was good for the root vegetable which can be passed this time by the cooked vegetables with which called adzuki beans were combined if it was a favorite of Shinran saint, I came to be called cousin boiling. A lure lower back will call Mr. temple in November by a memorial service of Jodo-Shinshu, and also combines ancestor's memorial service, and you give me a sutra, and I have a meal together.

for 4 persons
Glutinous rice

3 cups

Azuki beans

1/2 cups

Taro potato

400g

Japanese radish

200g

Water

3 cups

Salt

a little
1.

Glutinous rice is sharpened and given to a basket.

2.

Adzuki beans are boiled hard.

3.

Japanese radish is peeled and it's about 1cm corner, it's cut and it's boiled in advance like dice.

4.

A bigger one is drained like dice more than Japanese radish, it's washed with water and slime is taken. If slime is taken, it's given to a basket.

5.

Glutinous rice is put in a rice cooker. Adzuki beans, water and salt are added. Japanese radish and taro potato are carried and ordinarily cooked.

6.

If I cook, it's steamed a little and it's mixed lightly.
Information provided by : The local food which would like to leave it for young men