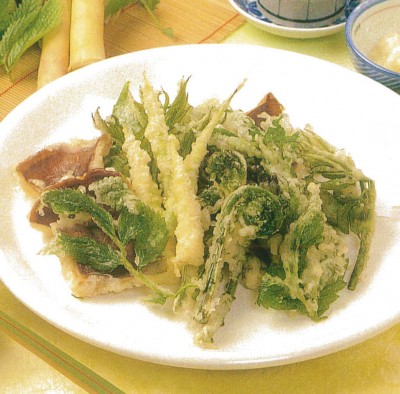 Yamagata
After wild vegetable wrap the peculiar flavor in flour
Tempura of wild vegetable
The explanation which makes the fresh wild vegetable tempura, without lye, it isn't necessary. I bend, do sprout of cod, lower back oil, Aralia cordata, butterbur sprout and bracken and put aside, bamboo shoot.... Spring has a dish of wild vegetable, being thankful for a favor in a mountain. How to eat by which to take tempura for fresh wild vegetable is easy and tastes good. Something with the strong fragrance will be to take tempura in particular, and I give the flavor which whets the appetite off in the vicinity.

for 4 persons
Sprout of cod

4

Gassan bamboo shoot

4

Aralia cordata

1

Flour

50g

An egg

1/2

Water

1/2 cup

Frying oil

Soup stock soup

1 cup

Soy sauce

Tablespoon 3

Sweet rice cooking wine

Tablespoon 3

Grated Japanese radish

1/2 cup
1.

I cut Gassan bamboo shoot shallowly lengthwise, peel skin and cut the place with the strong clause off.

2.

A sprout of cod and Aralia cordata are washed and it's wiped up by a dried washcloth.

3.

Clothes of tempura are made with flour, egg and water.

4.

Flour is shaken in wild vegetable, clothes are put and it's raised entirely by oil.

5.

It's put over a fire, it's boiled and sauce is made together with soup stock soup, soy sauce and sweet rice cooking wine.

6.

Grated Japanese radish is added.
● Additionally a butterbur sprout bends and lower back oil and DOHOINA point to tempura.
● It isn't done at the time when I'll take tempura without lye, would.
Information provided by : Home local food private inquiry