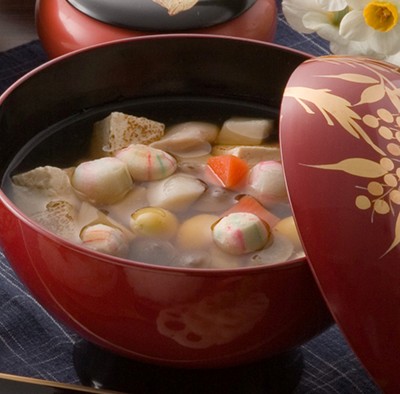 Saga
The entire village gets together to make this soup together
Dabu
At the Hamatama-cho area of Karatsu city, this soup would be made by all the villagers at times of celebration or mourning. Ingredients used tend to maintain their shape even after long cooking, and the name 'dabu' comes from referring to the sound of plenty of things sloshing around in water. The ingredients in the soup are cut into squares for celebrations, and into triangles when mourning. Each family has their own recipe, and some households have a tradition of not using sugar in the soup on a sunny day.

for 4 persons
Chicken

180g

Fried tofu

1/2

Fish cake

1

Lotus root

1/2 medium sized piece

Taro

4 medium sized pieces

Burdock

1/3 of whole

Frozen potato jelly

5

Dried shiitake mushrooms

5 medium sized pieces

Dashi stock

6 cups
Sugar

2 tablespoons

Ligh soy sauce

4 tablespoons

Sake

4 tablespoons

Salt

2/3 teaspoon
1.

Cut chicken to 1cm pieces. Do same with other ingredients. Rehydrate frozen potato jelly and slice thinly.

2.

Make stock from kelp and dried fish. Add chicken and other ingredients and add flavorings.
※Can be served cold.
Information provided by : Saga Prefectural Manufacturer Support Division