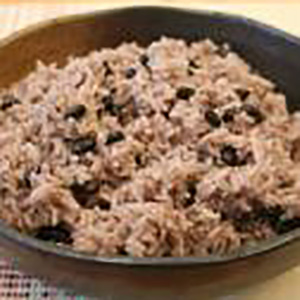 Oita
The steamed rice which was seeing, put in beans and cooked
Mitori Okowa
Beans are seeing and are one kind of sacrifice, and for a sheath to take only a fruit, without eating, I say "mitori". Steamed rice is made using mitori instead of adzuki beans at the prefecture north where the Usa area was made the center. It was easier to be different from adzuki beans in the flavor but make, and much could be harvested. Because it's dark, mitori is also made as a treat of a Buddhist ceremony, the first Bon and a summer festival in Usa-jingu.

for 4 persons
Glutinous rice

400g

Water

360-400cc

Boiled mitori (30% of rice)

120g

Salt

a little

Sugar

a little

Sesame

a little
1.

Mitori is investigated and it's put on the salt water of 3% one night.

2.

I scour salt water of mitori and cook by new water. If I boil, it's boiled, water is thrown away and the hardness of about 7th minute is even cooked by new water.

3.

I sharpen glutinous rice, add water of the quantity and boiling mitori and cook.
※ I hope that the dissolution I'd like to color adds cooking liquid of mitori.
Information provided by : The taste of the home / local food which would like to leave it for young men