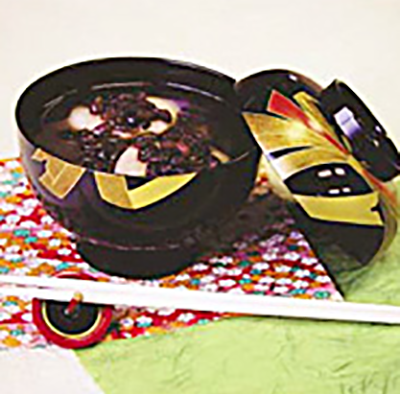 Tottori
Sweet azuki and round mochi for the New Year.
Azuki soup zoni
Zoni (soup eaten in the New Year) in Tottori consists of soft round mochi (rice cakes) boiled in water used for cooking azuki beans. It may contain a lot of water, or just a little water with more azuki beans, and while most are sweetened with sugar, some are flavored with salt. This doesn't mean that azuki zoni is eaten all over the prefecture. In the mountains zoni is usually flavored with soy sauce or miso. While taste varies by household and region, most areas use round mochi that is boiled until soft. In Misasa town in central Tottori, mochi containing ground Japanese horse chestnut is used.

round mochi

4

azuki beans

1/2 cup

sugar

60g

salt

as needed
1.

Cover beans in ample water. Once boiling, drain water and repeat twice to remove bitterness. Finally, add two cups of water and boil until soft.

2.

Add sugar and boil a further 7-8 minutes until well mixed. Add a pinch of salt if desired.

3.

In a separate pot boil mochi, and transfer to bean soup when soft.
Information provided by : 食のみやこ鳥取県 とりネット