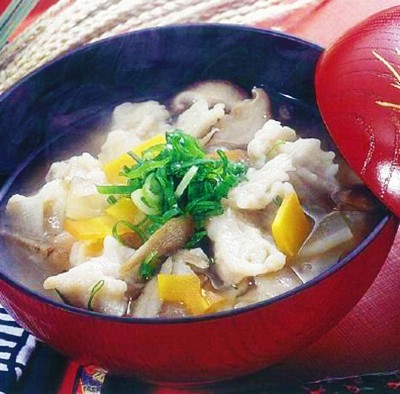 Saga
Rustic soup with flour dumplings
Dago Soup
An old Saga dish with rustic origins. With plenty of barley in the region, flour-based foods were eaten in lieu of rice at times. This soup consists of flour dumplings (noodles), green onions, and whale (the only source of protein back in time). The dumplings or noodles vary in size and shape according to region, with differing names too. The dish can be whipped up quickly for sudden visitors, served at a dinner party, or even serves especially at harvest time like the farmers did.

for 4 persons
Taro(skin on)

200g

Flour

100g

Burdock

40g

Daikon radish

120g

Carrot

40g

Fresh shiitake

3 medium sized

Shimeji mushrooms

40g

Spring onion

20g

Barley miso

45g

Dashi stock

3 cups
1.

Boil taro with skin on, or microwave and peel. Smash and add flour. Mix well.

2.

Slice burdock thinly and place in water. Chop daikon and carrots. Slice shiitake to3mm thick and separate shimeji mushroom to bite size pieces.

3.

Add 2 to dashi stock and add ingredeints that take longer to cook first. Spread the dough you made at 1, and tear into bite size pieces and add to soup. Flavor with miso.
※ Soy sauce may be used instead of miso.
※ You can add chicken too.
Information provided by : Saga Prefectural Manufacturer Support Division