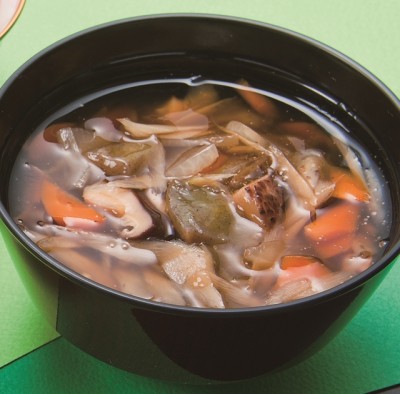 Saga
A soup with a myriad of ingredients
Noppei Soup
Taro, burdock, konyak potato jelly and all other sorts of ingredients can be found in this hearty soup. It is eaten every day, and is often a feature at celebrations too. In olden times, when served at celebrations, chicken, shiitake mushrooms and burdock were added for extra flavor and stock. In some areas, azuki beans are added when serving this at weddings. Every year, on the first day of September, the rice paddies are sprinkled with sake to pray for good harvest. During this ritual, villagers would bring a picnic spread of noppei soup, salted mackerel, fish cakes and tempura to be eatn together. In the Kizato area of Saga, this tradition continues to this day.

for 4 persons
Taro

2 medium sized

Sweet potato

1/2 medium sized

Burdock

1/2 small sized

Carrot

1/2 small sized

Lotus root

1 small sized

Potato jelly

1/6 of a sheet

Chicken thigh

160g

Corn starch

2 tablespoons

Water

2 tablespoons

Fish cakes

1/3 of a piece

Round fish cakes

1/3 of a stick

Green beans

10g

Shiitake

1-2

Dashi stock

4 cups
[ A ]
Sugar

1 tablespoon

Soy cause

2 tablespoon

Salt

1/3 teaspoon

Sake

2 tablespoons
1.

Cut vegetables and boil.

2.

Boil 1 in stock.

3.

Add 1 when cooked and add cornstarch and water mixture to thicken.

4.

Add green beans on top.

5.

Can be eaten cold too.
Information provided by : Saga Prefectural Manufacturer Support Division