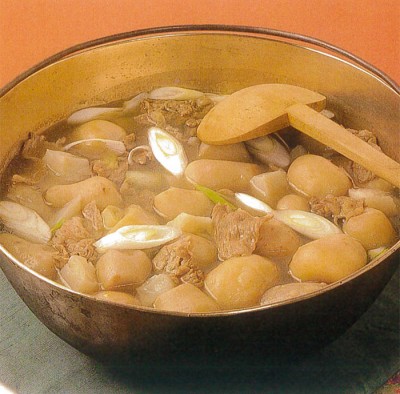 Yamagata
Yamagata's seasonal tradition - outdoor gathering to share the harvest
Imoko Jiru (Murayama Style)
Imoko Jiru in Murayama style is a big pot of simmering taro, beef, konjac, and leeks seasoned with soy sauce. It used to be made with dried cod, but since the Taisho era (1912 – 1926), local beef has been the standard ingredient of the cuisine.

for 4 persons
taro

600g

thin slices of Yamagata beef

400g

konjac

1 bag

leeks

4

water

6 cups

sake rice wine

4 tablespoons

sugar

4 tablespoons

soy sauce

6 tablespoons

salt

a pinch
1.

Peel taro, cut them into bite-size pieces, rub them with salt and wash them with water before cooking them in boiling water.

2.

Cut beef slices into 4cm long strips. Cut leeks in diagonal pieces.

3.

Break konjac with fingers into bite-size pieces, cook them in boiling water, and drain.

4.

Put water and 2 tablespoons of sake in a pan, and cook taro and konjac for six minutes.

5.

Add beef and the remaining seasonings.

6.

Skim off the scum and simmer.

7.

Add leeks when the taro pieces are cooked soft.
*Other ingredients, depending on the region, include mushrooms, ito konjac (konjac cut into noodle-like strips), and daikon radish.

Information provided by : Yamagata cuisine recipe book Yamagata Kyodo Ryori Tanbo