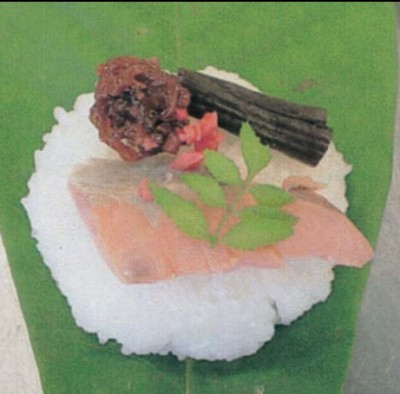 Gifu
A specialty dish of early summer, with a scent of Hou
Houbazushi
Houbazushi is a special kind of sushi usually made for holidays of farm work and ohimachi, and also when having guests home. This special sushi is decorated colorfully with vinegared salted mackerels and salted trouts. If rice is wrapped with a hou leaf while the rice is still warm, it absorbs the scent of Hou more, however the leaf later dulls its color. In some of the areas, this sushi is wrapped or made as oshizushi with the rice and fish mixed together. The ingredients differ depending on the seasons, or the cook's choice, and it could be arranged in many ways.

rice

10 cups

vinegar

1 cup

sugar

250g

salt

2 tablespoon

For toppings : tamagoyaki, fuki, trout, shigure, mushrooms, benishoga, shiitake mushrooms, shiso, sasage, mackerel, sanshoha, houba

-

朴葉

適宜
1.

Cook rice slightly firmer than usual. Mix the rice with the mixture of vinegar and sugar.

2.

Simmer and flavor the ingredients for toppings, and cool them down separately. The ingredients vary with the seasons.

3.

Wipe and clean hou leaves with a wet towel

4.

On a hou leaf spread a bowl-full vinegared rice to 1cm thick, and put the toppings, wrap, leave it for a half day to flavor with the hou.

Information provided by : Division of agricultural products distribution of agricultural administration, Gifu Prefecture