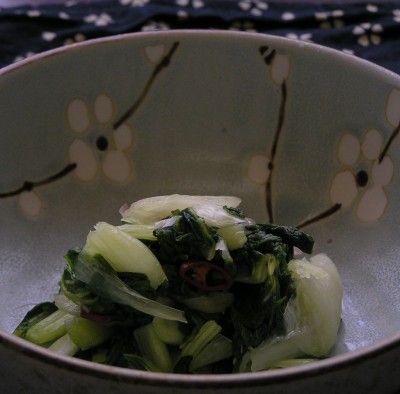 Saitama
Pickles made with Chichibu's traditional vegetables
Shakushina Zuke
Shakusina is a vegetable which has been grown for long time in the Chichibu region. This pickles is shinny and crunchy. Aged pickle is in an amber color and has a different flavor but it is lovely as well. Shakushina Zuke can be eaten as a pickles but also is used to make other dishes by stir flying with soy sauce or used as a staffing for Manju.

Shakushina

5kg

Salt

400g

Red pepper

as you wish
1.

Sun dry the Shakushina for a half day.

2.

Wash and drain the Shakushina and lay them alternately on the bottom of the barrel and add salt. Place 5kg stone weight for pickling.

3.

There will be water coming from the vegetable in two days, but if not, add some water.

4.

Pickle it for 10 days and deep plow to make sure all the vegetable are pickles in similar ways.

5.

Spread a plastic bag on the bottom and lay 4 and add 2.5kg stone weight.
Information provided by : Saitama traditional local food recipe book