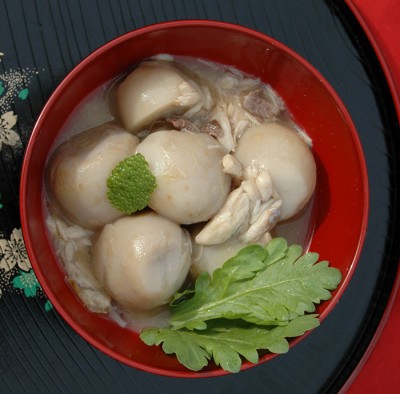 Shimane
A delicacy of autumn, a dish that makes the most of satoimo.
Imoni
This is a traditional local dish of Tsuwano. Make dashi with broiled small snappers, and put satoimo and yuzu as condiments. This is an autumn delicacy for serving guests or relishing the special time. In the old days people cooked imoni in a large iron pot and ate it between farm works. It is known that satoimo cultivated in an area called Sasayama at the foot of Mr. Aono is the best satoimo.

for 1 persons
amadai (aburidai)

20g

satoimo

70g

kobu

as needed

usukuchi shoyu

1 teaspoon or less

koikuchi shoyu

1/3 teaspoon

shungiku

5g

yuzu

as needed
1.

Peel satoimo, cut into bite-sized pieces, boil and wash off the skum.

2.

Simmer satoimo in kobu dashi for 2 to 3 hours over low heat.

3.

Flake a broiled kodai, or broil a snapper and flake it.

4.

Once satoimo becomes soft, add snapper flakes, and seasonings to season.

5.

Put satoimo in a bowl. Tear shungiku, put them and yuzu on top of satoimo as a garnish if desired.
Information provided by : 公益社団法人島根県栄養士協会/しまね食三昧