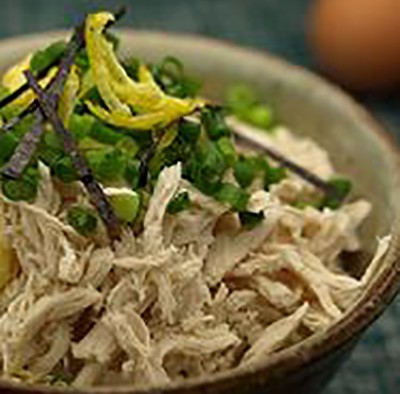 Kagoshima
A specialty served to guests in Amami-oshima Island since 370 years ago
Keihan
Keihan is a dish with white rice topped with a variety of condiments and soaked in chicken broth. Toppings include strips of cooked chicken, sliced omelet, shitake and pickled papaya, garnished with green onion, chopped seaweed, chinpi (citrus peel), sesame seeds and pickled ginger. Broth taken from a whole chicken is poured over the rice to serve. Guests serve their own rice, toppings, garnish and soup in their desired quantities. Garnish often includes local papaya or daikon pickles. There are several keihan specialty shops in Amami city, each offering their own version with locally bred chicken or other unique twists.

for 4 persons
[ A condiments ]
mirin

1 tablespoon

sugar

2 teaspoons

koikuchi (dark) soy sauce

1 tablespoon
[ Shitake, carrots ]
[ B condiments ]
sugar

1 tablespoon

koikuchi (dark) soy sauce

1.5 teaspoons

stock taken from dried shitake

1/2 cup
[ 卵 ]
[ broth ]
chicken bones

90g

stock taken from boiled chicken

900~1200cc
[ garnish ]
pickles

as needed

seaweed

as needed

negi (green onion)

as needed

mikan (citrus) skin

as needed
1.

Boil chicken breasts and tear into strips. Simmer in sauce of 'A condiments'.


2.

Soak dried shitake in water. Julienne shitake and carrots and simmer in a sauce of 'B condiments'

3.

Mix egg with salt and sugar. Heat oil in a pan and fry until cooked. Cut into strips.

4.

Julienne pickles, seaweed, and citrus peel. Chop green onion finely.

5.

Heat broth in a saucepan.

6.

Heap rice into a bowl, top with condiments, pour soup and garnish to serve.
Information provided by : NPO Research of Food Education of Kirishima