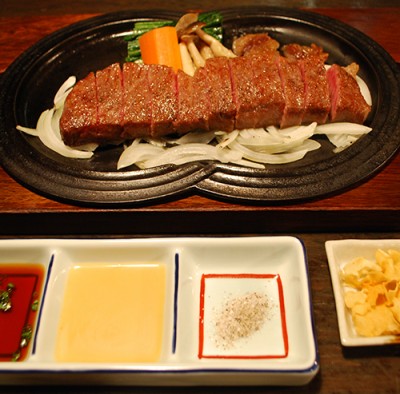 Hyogo
High-grade "Kobe beef" steak
Kobe beef steak
Kobe beef steak flavored with salt and pepper, cooked on an iron griddle, which comes with steak sauce if you prefer. Kobegyu (Kobe beef) is high-grade meat of "Tanbagyu" and only meats that meet strict criteria can be certified as Kobegyu. The history of Kobegyu started when a British merchant opened a meat shop in Kobe in 1868. The definition of Kobegyu was established in 1983, and its name is known throughout Japan and referred as high-grade beef since then.

for 1 persons
Kobegyu sirloin steak

200g

salt

as needed

pepper

as needed

mushrooms

as needed

spinach

as needed

onions

as needed

carrots

as needed

butter

as needed
[ A ]
Sesame oil

1/2 teaspoon

canola oil

1/2 teaspoon
[ If preferred ]
garlic chips

as needed

ponzu, negi

as needed

garlic sauce

as needed
1.

Remove fat from the meat, season the both sides with salt and pepper. Sautee mushrooms and spinach with butter. Slice onions and soak them in water. Cut carrots into bite-size pieces and boil.

2.

Put on an iron griddle, cook the removed fat at low to medium heat. Put the meat on and grill the both surfaces at low to medium heat.


3.

Grill the sides.

4.

Cut into small pieces and put on a plate with the vegetables. Eat with garlic chips and sauce if preferred.
Information provided by : 農山漁村の郷土料理百選