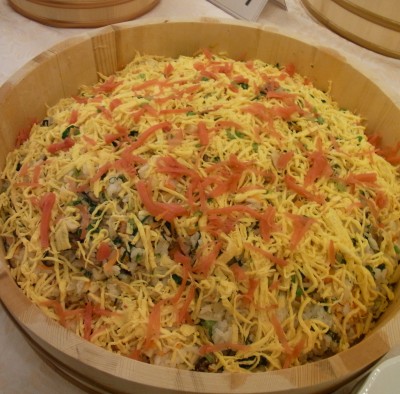 Wakayama
Treat in the rice planting holiday when generation after generation is transmitted
Kakimaburi
Kakimaburi scatters and adds a topping to sushi rice in ZU SHI, and is eaten local food, and it's made a celebration at home. Freeze-dried bean curd, dry shitake mushroom and boiled fish paste are general, and a topping is decorated with silk thread egg and red pickled ginger showily.

[ Sushi rice ]
Sushi rice

3 gou

Seaweed

5 cm corner

Liquor

30cc
[ Blended vinegar ]
Vinegar

60cc

Sugar

30g

Sweet rice cooking wine

30cc

Salt

teaspoon 1
[ Topping ]
Freeze-dried bean curd

2

A dry shitake mushroom

3

Carrot

100g

Boiling bamboo shoot

100g

A boiled fish paste

1/2
[ The seasoning ]
Soup stock

2 cup

Thin shou oil

tablespoon 2

Sugar

20g

Sweet rice cooking wine

tablespoon 1
[ Display ]
Fried egg cut like thread

proper amount

A snow pea

proper amount

Red pickled ginger

proper amount

Paddy glue

proper amount
1.

Seaweed and liquor are put in, blended vinegar of the quantity is added to cooked rice and sushi rice is made.

2.

The returned dry shitake mushroom, freeze-dried bean curd, carrot and boiled bamboo shoot are made the small strip of paper limit. A boiled fish paste, like, it's cut.

3.

Snow pea pulls the strings, boils it with salt and makes it cut diagonally.

4.

It's boiled and included until soup puts the seasoning in a pot and boils, and disappears including the material of(2). Just before turning off heat, boiled fish paste is put in.

5.

A topping of(4) which cut a juice into sushi rice is added and the whole is mixed.

6.

I heap(5) on a container, train, take it and scatter fried egg cut like thread, snow pea and the red pickled ginger which did shredding.
Information provided by : Wakayama-ken Marine Products Division of agriculture and forestry Agricultural production bureau The fruit gardening department.