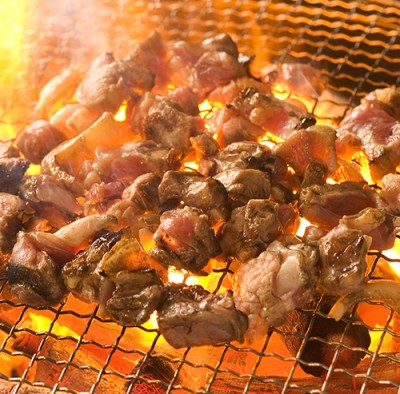 Miyazaki
Juicy char-grilled smoky chicken. Great nibbles for beer and shochu!
Jidori no sumibiyaki
Bite-sized chunks of crunchy grilled local chickens, which are seasoned with salt and pepper, then grilled at high heat by charcoal. This dish is popular for its smoky flavor and aroma. People in Miyazaki Prefecture and Kagoshima Prefecture used to raise its native chickens, "Jittoko", but since Jittoko was designated as a protected species, "Miyazaki Jittoko," a crossbred chicken of Jittoko and non-native chickens, has become a popular native chicken of Miyazaki prefecture today. The char-grilled local chickens became a popular traditional dish in Miyazaki, and you can find vaccum-sealed packages of smoked chickens and char-grilled chickens at souvenir shops.

for 2 persons
chicken leg

1

salt

1 pinch

shichimi-tougarashi

as needed

ichimi-tougarashi

as needed

yuzu-kosho

as needed

chicken oil (chi-yu) or oil

as needed
1.

Cut up chicken leg and cut off the strings, then rub in salt.

2.

Grill the chicken surface on charcoal, and make 5-6 1-1.5cm long cuts on the skin.

3.

Quickly grill it again. Get fire burning on charcoal by pouring chicken oil or oil if fat from the chicken does not drop on charcoal and make a fire started, which gives the chicken the sent of charcoal.

4.

Once the skin gets grilled and crunchy, debone and cut into bite-size pieces.

5.

Grill the bones.

6.

Place on a plate and serve.

7.

Garnish with shichimitogarashi , ichimitogarashi and yuzukosho.
Information provided by : 100 Selections of traditional local cuisines of farms and fishery