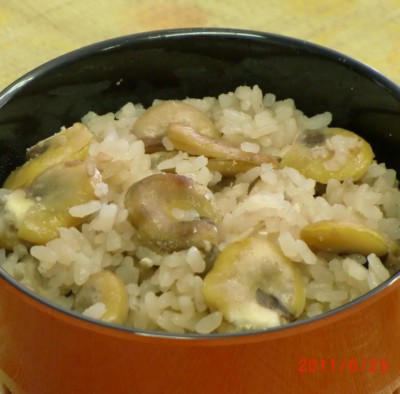 Tokushima
Sweet rice cooked with broad beans that helps recover from exhaustion.
Chagome
Sweet rice cooked with broad beans and zarame (granulated sugar). The color of the rice is brown, and broad beans have soft and flaky texture like chest nuts, and the rice goes very well light flavored pickles. This is also served for the New Year's, higan, and Buddhist memorial services in some areas. Farmers used to cook chagome to use up old broad beans before new ones came out around rice planting season. Farmers ate chagome that was rich in energy souces such as sugar and broad beans to recover from exhaustion.

for 4 persons
rice

2 cups and a bit more

dried broad beans

1 and 1/2 cups

water for broad beans

3 and 1/2 cups

zarame (midium) sugar

3 tablespoon

salt

1/3 and a bit more teaspoon

water from boiling broad beans

2 and 1/4 cups
1.

Wash and drain rice 30 minutes ahead of time.

2.

Quickly wash broad beans, put in a frying-pan or pan, and cook for 15 minutes over low heat. Carefully roast them until brown.

3.

Soak the roasted beans in hot water for 30 minutes, put on the heat until water comes to boil, remove from the heat, and leave for 2 hours covered with a lid.

4.

Drain the broad beans, and keep the water for cooking rice.

5.

Peel the broad beans with care so the beans will not be broken.

6.

Put rice, broad beans, zarame sugar and sal in a rice cooker, add 2 and a half cups of water taken from the pan of the broad beans, and cook.

7.

Mix the rice once cooked.
Information provided by : とくしまの郷土料理