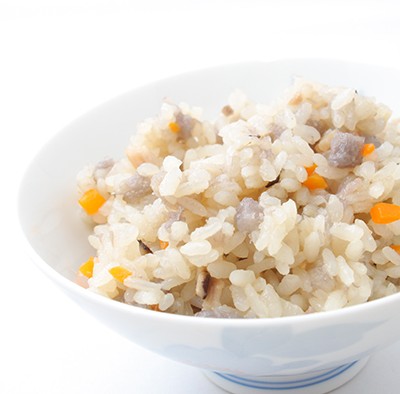 Okinawa
Okinawa with pig rib, personal seasoned steamed rice with vegetables and meat
Kufazyusi
Okinawa wind seasoned steamed rice with vegetables and meat. A porridge of rice and vegetables look, crumbly this is called Kufazyusi to juicy.

for 2 persons
Rice

1 and 1/2 cups

Pig soup stock

300ml

Soy sauce

tablespoon 1

Salt

teaspoon 1/4.

Oil

tablespoon 1/2

Boiling rib

50g

Carrot

15g

Shiitake mushroom

1

Taro

50g
1.

I wash rice and drain off water. (Before cooked 30 minutes)

2.

Boiled rib, carrot, shiitake mushroom and taro are cut into the ARARE limit respectively. (3- 4mm corner)

3.

I oil a pot, put all toppings cut with the above-mentioned work in, often mix and season it properly.

4.

I put soup stock in a pot made of the above-mentioned work and make them boil, and cooks while putting in the rice off which I drained water and paying attention to the heat setting.
Information provided by : Okinawa-ken Marine Products Division circulation of agriculture and forestry and the processing promotion department.