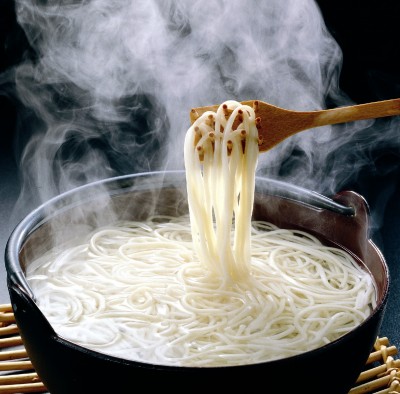 Nagasaki
Enjoy your cooked udon noodles with raw egg or fish stock sauce
The Goshima islands udon hot pot from hell
The hand pulled udon noodles of the Goshima islands archipelago in Nagasaki are renowned. The noodles boiled in plenty of hot water can be enjoyed with a fish stock flavored with soy sauce. This is a local favorite. The naming comes from some local visitors exclaiming how deliciously sinful this dish was.

for 2 persons
Gojima hand pulled noodles

2 portions

Drief flying fish stock

400cc

Eggs

2

Spring onions

small amount

Soy sauce

small amount
1.

Place plenty of water in a large pot. Bring to boil and add udon noodles.

2.

Break raw egg into serving bowl and add spring onions, ginger and other seasonings according to preference. Mix well.

3.

Take done noodles and dip in egg mixture before eating up!
Information provided by : Nagasaki Prefecture Agricultural Department