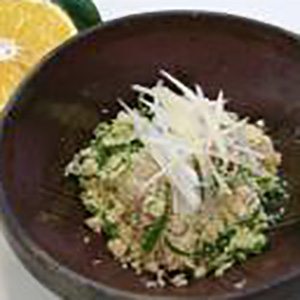 Oita
The economical dish which covered a slip of sashimi with tofu refuse
Kirasumameshi
Sashimi mixing okrara was began to be called 'Kirasumeshi' . There is a person who refers as "Okarameshi" and "Okaramabushi", too. It was a custom from the former feudal domain age to make the dish which covered tofu refuse with a body of fish at the Gion Festival in the Usuki area. Usuki feudal clan often falls into a serious financial difficulty, the, a degree, a thrift ordinance was taken out and food was also regulated. Kirasumameshi using a slip of sashimi is economical cooking, but it's also nutritious and good.

for 5 persons
Fish, (, act SHIBI, bonito, mackerel and yellow tail, etc.)

200g

okara

150g

Soy sauce

the degree with which fish is flooded.

Sugar

a little.

Leek or crown daisy

20g

A Kabosu

proper amount.
1.

I filet fish in 3, cut it into the size of the sashimi degree and add a day at 30 minute in the soy sauce.

2.

Okara is often mixed until a stickiness goes out, and fish and the leek I minced or crown daisy are added and mixed.
※ It's the trick to mix just before eating.

3.

I pour Kabosu citrus over it and eat.
Information provided by : The taste of the home / local food which would like to leave it for young men