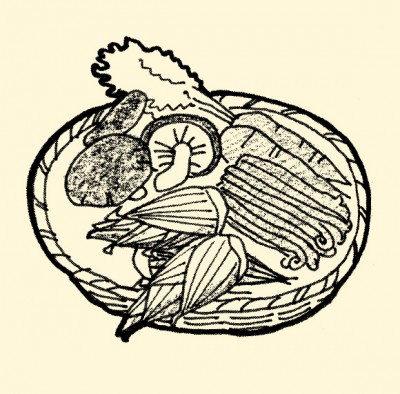 Aichi
The taste into which season in spring was condensed
Sansaimeshi
Bracken and bamboo shoot can pass the wild vegetable in spring. A feed of wild vegetable is cooked using preserved bracken and bamboo shoot.

for 6 persons
Rice

4gou(560g)

Water

670cc

Thin fried tofu

2 (50g)

Shiitake mushroom

3 (45g)

Carrot

50g

Bamboo shoot

50g

Bracken

100g
[ Broth ]
Soup stock soup

cup (200cc)

Sugar

tablespoon 1

Sweet rice cooking wine

tablespoon 2

Soy sauce

tablespoon 3

Salt

teaspoon 3/4
1.

I cut thin fried tofu, shiitake mushroom, carrot and each material of the bamboo shoot into fine strips.

2.

To the inside of a pot, 1. If I put in the seasoning of the quantity and soup stock and make them brought to boil.

3.

Rice is washed before cooked 30 minutes.

4.

2. The broth which is so is left a little, 3. It's boiled including broth in the iron pot which is so.
◎ When soy sauce uses white soy sauce, the color completes beautifully.
◎ That broth is added, the amount of water is reduced.


5.

2. A topping in the pot which is so is boiled down until soup disappears.

6.

A topping is mixed readily to the inside of cooked rice, the bracken which did salt excuse is added and it's steamed a little.
Information provided by : AIchi folklore dish collection