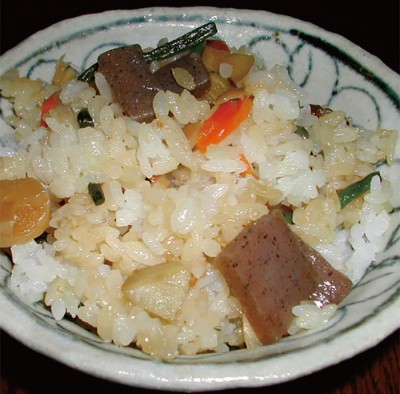 Aichi
A taste of local life with seasonal ingredients
Rice with added ingredients
There used to be an event called hotokukai in the former Ashiyamada village, Ichinomiyacho. Once a year, the event was held for men where for women it was held twice. This cooked rice with added ingredients were eaten at these occasions. Plenty of seasonal wild plants and vegetables were mixed into the rice.

for 10 persons
Rice

1.4kg

Carrots

1.5

Gobo burdock

200g

In spring: Bamboo shoot

300g

In spring: Bracken

200g

In autumn: Brown beech mushrooms

150g

In autumn: Edamame green soybeans

260g

Deep-fried tofu

5

Konjac

100g

Sugar

3 tablespoons

Soy sauce

230g

Salt

some
1.

Wash the rice one hour before cooking and drain.

2.

Cook the rice with 10% extra water added. Add 2/5 of the soy sauce to the cooked rice and leave it for the rice to soak up the flavour.

3.

Some of the ingredients may have bitter taste. Soak such ones in water to remove the bitterness and drain. Put the ingredients except for the edamame green soybeans in a pot, add sugar and the rest of the soy sauce, and cook until the water from the ingredients has evaporated. Put the rice in an ohitsu wooden container to mix with the cooked ingredients.

4.

Cook the edamame in salted boiling water, drain and mix with the rice.
*Make sure to cook the ingredients until the water has evaporated so that the rice does not get soggy.
Information provided by : Aichi lore cuisine collection