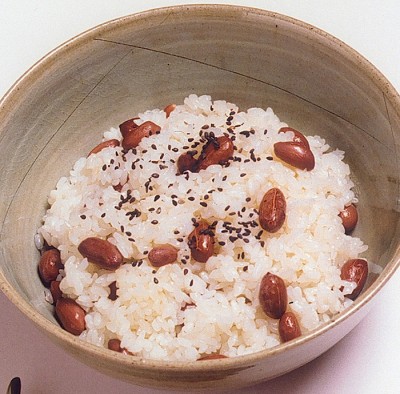 Chiba
Hint of sweetness is the diffidence from normal Sekihan (festive red rice)
Peanuts Okowa
Raw peanuts from Chiba are cooked with sugar first, and cooked in rice together with Azuki beans. You can enjoy different Sekihan (festive red rice) with hind of sweetness of peanuts.

for 5 persons
Mochigome (glutinous sweet rice)

4 cups

Raw peanuts

100g

Azuki beans

20g

Roasted sesame (black)

1 tea spoon
[ A:Seasoning ]
Sugar

2 Tbs

Mirin

2 tea spoons

Soy sauce

1 tea spoon
[ Water mix ]
1.

Soak raw peanuts over night.

2.

Cook Azuki beans harder than normal (keep the water that beans are cooked in).

3.

Wash rice and soak it over night in the water that Azuki beans are cooked in.

4.

Cook soaked peanuts with plenty of water, once water is boiled, drain.

5.

Add new water in 4, and cook until peanuts are soft. Add seasoning A and cook for 30 minutes in mid heat.

6.

Drain rice, add peanuts and Azuki and steam it in a steamer.

7.

Steam it for 25 minutes, add salt water to the rice.
* You don't cook rice with water, water is added later.
*Do not use raw peanuts after summer because they may have a smell

8.

Steam it for additional 10 minutes.

9.

Serve on the plate and add sesame on the top.
Information provided by : Chiba local dishes