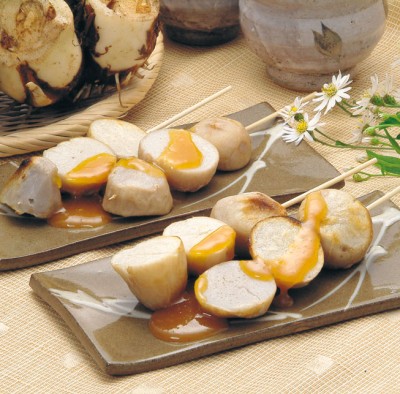 Tochigi
A courtesy and an event and child's snack
Imo-kushi
A potato skewer is eaten as a dish of New Year's at the prefecture north. Using the waste potato which is early spring for child's snack, it was made. There is pleasure which is baked and eaten around the hearth made in the floor.

for 4 persons
[ Fermented soybean paste sagging ]
Fermented soybean paste

100g

Sugar

100g

Sweet rice cooking wine

60g

A citron

in the season, lay

Leaf of Japanese pepper

In the season, lay
1.

Taro potato washes an integument off and faces to the place which spoiled, and it's given to a basket and 1-2 hour drying in the shade is done.
(When there is no time, you may omit.)

2.

Taro potato cuts something big and gathers at the bite-size size.

3.

It's humid until a skewer lays cooking paper out and puts in taro potato in a steamer, and passes.

4.

I expand into a basket, dampen and stick 3-4 of potatoes into a skewer.

5.

Both sides are baked by an oven and charcoal, etc..

6.

Fermented soybean paste sagging is made.
* It's boiled down while beating so as not to remain unchanged until the body puts fermented soybean paste, sugar and sweet rice cooking wine in a pot and puts over a fire, and goes out.
* Grating of citron and mincing of Japanese pepper are added.

7.

Fermented soybean paste sagging is put on the potato skewer which burned and it's baked lightly again.
Information provided by : "A dish of the hometown I'd like to hand down to a child and my grandchild and, CHIGI" issue Tochigi-ken agriculture person conversazione