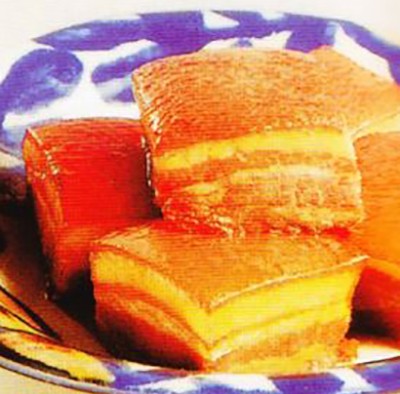 Okinawa
This is the must menu for Buddhist services and other occasions with guests.
Rafte
This is the best representation of pork dish in Okinawa. Pork rib meat with skin is stewed until they are very soft. There are two versions for this dish, one with sugar and soy sauce and other is with Miso. Normally pork is stewed in Awamori (Okinawan liquor) til even the pork skin melt in your mouth and it has very rich and profound flavor.

Pork ribs (no bones)

750g

Bonito broth

4 cups

Awamori

1&1/2 cups

砂糖

80g

Sugar

80g

Thin striped ginger

5g
1.

Boil whole pork ribs for 50 minutes

2.

Cut boiled meat into 3cm cubes

3.

Boil Awamori, Bonito broth and sugar and add meat. After cooking for while, add half of soy sauce twice. Simmer until pork can be cut by chopsticks.

4.

Serve on the dish with sauce and ginger on the top.
Information provided by : 沖縄県 農林水産部流通・加工推進課