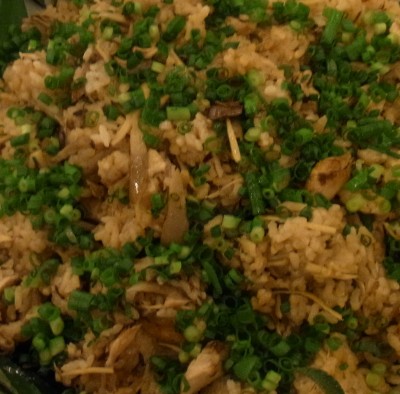 Wakayama
A staple dish in the mountain areas
Sabameshi
In the mountain areas, fish is always referred to as dried fish. Takikomigohan made with salted saba used to be a dish served for guests at home in the old days. Sabameshi is usually cooked only with rice, salted saba and shoyu. Sabameshi tastes much better when cooked with fresh saba and potherbs.

for 6 persons
rice

540cc

saba filet

a slice

salt

1 teasopoon

shiitake

4 fresh

gobou

1

ginger

1 piece

aonegi

as needed
[ seasonings ]
dashi

600cc

shoyu

45cc

sake

45cc

mirin

45cc

salt

as needed
1.

Rinse rice and set aside.

2.

Put salt on a saba filet, grill the both sides.

3.

Cut gobou into thin slices, and soak in water. Slice shiitake, and cut ginger into long thin strips.

4.

In a rice cooker, put rice, seasonings, 2 and 3, and cook.

5.

When cooked, take out saba and remove small bones, flake it and put it back into rice and mix well. Sprinkle with sliced aonegi.
Information provided by : 和歌山県 農林水産部 農業生産局 果樹園芸課