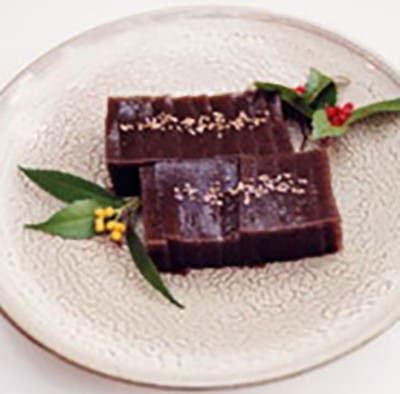 Tottori
Vegetarian 'shojin' cuisine with a rich seafood aroma.
Igisu
A dish made by boiling down 'igisuso', a type of red algae otherwise known as 'egonori', and letting it set in a dish. It sets naturally without the need for coagulants, on the same principle as agar-agar and is eaten sprinkled with sesame seeds and topped with a vinegar-miso or ginger-soy sauce. While it bears a resemblance to yokan bean paste, when you bite into it the flavor of the sea fills your mouth, and it has a unique enjoyable texture too.

[ Firm consistency, to fill a 30-40cm tray ]
[ Soft consistency, to fill a 30-40cm tray ]
1.

Pound igisuso to remove sand and stones.

2.

Wash clean in water, then drain in a sieve and remove any impurities.

3.

Add igisuso and appropriate quantity of water and place on heat.

4.

Once boiling, reduce to medium heat and simmer for 10-15 minutes.

5.

Once igisuso has dissolved, stir for 10-15 minutes with a wooden pestle.

6.

Pour the sticky paste into a tray and allow to set. (Will set faster in refrigerator).
Information provided by : 食のみやこ鳥取県 とりネット