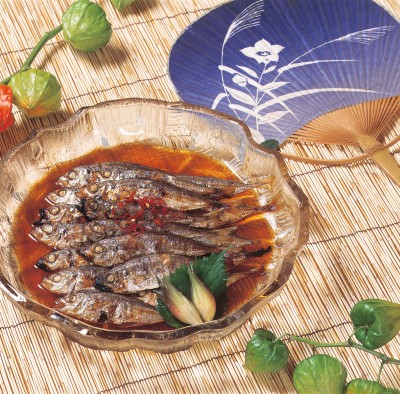 Kagawa
A fish dish suitable for the family's health
Fish Sambai
Fish sambai is usually the best side dish that does with a drinker during summer festivals. It is an original dish which people can eat all the bones of the small fish. They can be preserved for long also. Small fish such as aji (mackerel), mamakari (Japanese sardinella), kisugo, tanago (Japanese bitterling), and nebakochi are grilled and immersed in sambaizu (vinegar, mirin and soy sauce). Aji is a kind of migratory fish that come into the Setonaikai Sea during summer and autumn. Small ajis of 15cm long are at best season in autumn. Freshly grilled aji with ginger soy sauce is very good, but fresh sambaizu is even better.

[ sambaizu ]
vinegar

1/2 cup

sugar

50g

soy sauce

70cc

dashi

50cc

salt

little
Seasonal seasonings such as chili, ginger, myoga, sudachi citrus, green perilla
1.

Remove the gut from aji (better not to remove gut and scales from small aji as the fish can go apart).

2.

Grill the surface with a grilling net. Turn over when slightly burnt and make sure they are burnt thoroughly.

3.

Mix the seasonings and make sambaizu. Add thinly sliced chili, ginger or myoga, according to the season.

4.

Add freshly grilled hot aji into (3). Turn them over occasionally so they absorb the sauce. Add sliced sudachi citrons or green perila on top.
Information provided by : kagawaken nouseisuisanbu nougyokeieika