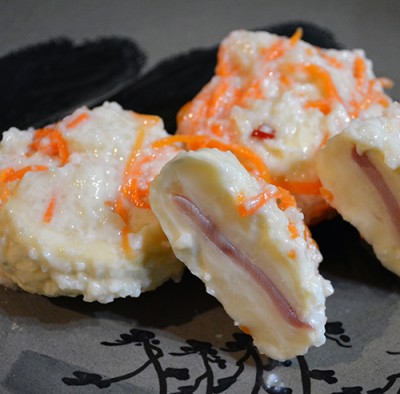 Ishikawa
A staple dish of the New Year in Kanagawa
Kabura Sushi
Kabura Sushi is a kind of "Nare Sushi" made with salted buri wrapped with salted kabu (turnips) then pickled in kouji (amazake). Kabura Sushi has been one of the preserved foods of winter in Kanazawa. Each home has its own recipe, and some uses mackerels as well. "History of Kanazawa City (people's daily life edition)" describes about the delicacy dishes for guests in the New Year as "Namako, konowata, and kaburasu (sushi)." It is still a staple dish for the New Year not only in Kanazawa but also in Toyama.

for 4 persons
buri sashimi

8 slices

turnips with leaves

2

carrots

1/2

dashi kobu

1

amazake

400g

yuzu peel

as needed

salt (coarse salt is preferred)

1 teaspoon
1.

Peel turnips, cut into halves lengthwise, then again into halves crosswise. Then make a cut for buri to put in. Cut stems into 2cm in length. Shred dashi kobu and carrots.

2.

Sprinkle the half portion of salt over turnips, the stems and carrots, keep in a container and leave in the fridge over night. Repeat it for buri.

3.

Drain the salted turnips. Wipe the water from buri with paper towel. Mix dashikobu with amazake.

4.

Dip buri into the amazake mixture, and put it into the slit of turnips. In a clean container, place turnips, carrots and stems, pour the amazake mixture, tightly close the lid and leave for 2 to 3 days in the fridge. Drain (take out) the water once a day.

5.

Place it on a plate, garnish with yuzu peel.
Information provided by : 100 Selections of Traditional Cuisines of Farms and Fisheries