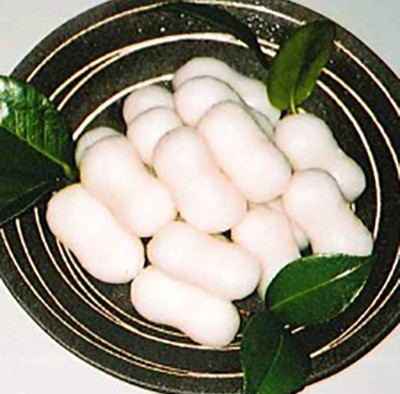 Toyama
The first day of horse in February dumpling
Hatsuumadango
Dumpling shaped like "the eyebrows" of the purpose I'll offer at a god on a day of the first horse in February. To be shaped like "the eyebrows" derives from silkworm raising's being popular in this area before. I put it in soup and thick bean-meal soup and eat, and I bake it, season it with soy sauce and eat, and, present the how to enjoy oneself is various.

for 4 persons
Sweet rice flour

2 cup

Buckwheat flour

2 cup

Flour

a little
[ Seasoning ]
Soybean flour

suitable

Sugar

suitable.

Salt

suitable.
1.

Sweet rice flour is put in a ball, hot water is poured a little and it's kneaded in the hardness like the earlobe. I tear up that small and give the form of a cocoon (the eyebrows).

2.

I give the form of a cocoon to buckwheat flour and flour like the shuffle(1).

3.

(1) and(2) are boiled for enough hot water in a rather big pot, and if I'm floating, it's given to a basket.

4.

I mix 4.A in the favorite sweetness, put it on(3) and eat.
Information provided by : 越中とやま 食の王国