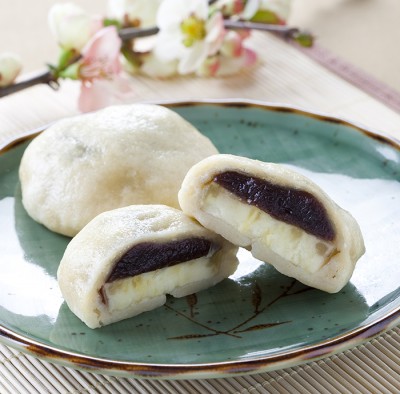 Kumamoto
Traditional sweet served to sudden visitors
Ikinari-dango
The name comes from how this dish can be made 'all of a sudden' by wrapping some sweet potato in dough and cooking. It's perfect for that sudden, unexpected visitor. Sweet potatoes are loaded with dietary fiber, vitamins, carotene and minerals.

for 20~25 persons
Sweet potato

(thickness:1~1.5㎝)20~25

All-purpose flour

250g

Dango flour

100g

Sugar

50g

Salt

Tabelspoon 1

Oil

Tabelspoon 1/2

Water

180~200cc

Bean paste

250~400g
1.

Peel the sweet potato (thickness:1 to 1.5㎝), bathe it in water for 10 min.

2.

Mix flour, dumpling flour, sugar, salt, and oil with water. And leave it for 30 minutes or more.

3.

Enlarge "2" on a plate, Cut it based on a pattern of the sweet potato.

4.

Put bean paste and sweet potato on the "3", and wrap.

5.

Steam "4" in the steamer.
Information provided by : 熊本県 農林水産部 むらづくり課