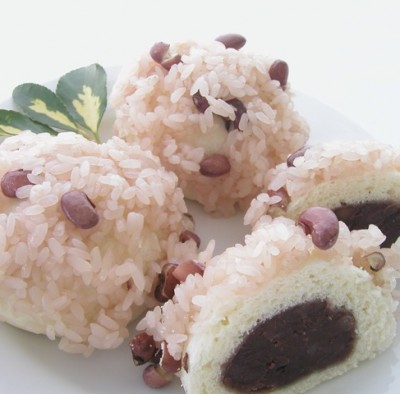 Saitama
An indispensable dish for celebrations
Igamanju
This is a dish of manju and sekihan steamed together. The name, Igamanju, came from the way the rice of sekihan stuck around manju resembled a chestnut bur.

mochigome (glutinous rice)

3kg

sasage

300g

an

1.5kg
[ dough ]
flour

1kg

sugar

400g

baking powder

35g

milk

225cc

water

225cc
1.

Boil sasage, drain in a strainer (keep the water). Soak mochigome in the water over night. Strain the rice, and steam sasage and rice together.

2.

Make an into balls, 30g each.

3.

Shift flour and baking power, dissolve sugar in water, mix the dry ingredients and sugar mixture together to make dough.

4.

Cut dough into small pieces, 30g each. Roll out each dough, wrap an an ball and roll into a ball. Repeat for the rest of an and dough.

5.

Spread the rice over in a steam cooker, place manju balls on the rice then cover manju with the rice. Steam at high heat for about 15 minutes.

6.

Take off heat, remove extra rice from manju, and reshape nicely.
Information provided by : ふるさとの味伝承士埼玉ふるさとの伝承料理集