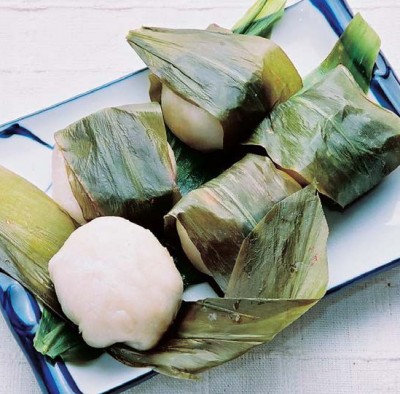 Gifu
A representative of the "taste of mother" that stays in your heart since childhood
Myoga Bochi
Myoga Bochi (Japanese ginger rice balls) is a local sweet of early summer, made in the mid-western part of Mino, Gifu prefecture. Sweetened broad beans are inside flour dough and wrapped in myoga leaves. Bochi is a local word for mochi (rice cake), which means dango (rice balls) locally. It is not a dish which uses glutinous rice (mochi rice).

flour

500g

Salt

1 pinch

water

5 cups

broad beans

1.2Kg

sugar

1kg

soda

20g

salt

1 pinch

myoga leaves

10
1.

Wash broad beans. Place in a pot with water and boil. Add soda when it starts boiling.

2.

Drain water once they are boiled. Wash in cold water while removing the skin.

3.

Wash broad beans, place them in a pot, put plenty of water and simmer. Add sugar when they are soft, mix well in order not to burn them. Turn of heat and let it cool.

4.

Spread flour on a cutting board. Place mixed dough and spread.

5.

Roll the sweetened broad beans into oval shapes of 3cm. Tear off the dough a little bigger than the beans, spread while making the center a little thick and wrap the beans.

6.

Wash myoga leaves well and wrap the rolled balls from the tip of the leaves. Place them in a steamer so they do not stick together, and steam for 3-4 minutes.
Information provided by : 岐阜県 農政部 農産物流通課