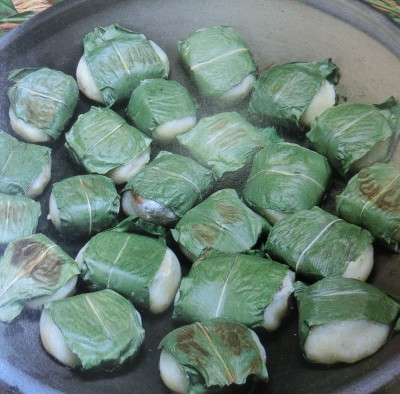 Okayama
A home-style snack that makes you relaxed
Kembiki Yaki
June 1st of the luna calendar was called 'rokkasshite' or 'rokkahhite'. It was a holiday for all farmers, when all rice planting had finished and people waited for the rainy season to end. Various events are held on this day also, as it marks the day of the ends and beginnings of critical ages. During this season, farmers make kembiki yaki, a snack wrapped in myoga(Japanese ginger) leaves. It is said to burn and relax the farmers' shoulders (kembiki mustles).

for 2 persons
flour

100g

boiling water

120cc

strained bean paste

100g

myoga(Japanese ginger)

5 leaves
1.

Roll bean paste into small balls.

2.

Add boiling water to flour. Use chopsticks to mix while it is hot. Use hands when cools down.

3.

Spread the dough, place bean paste and wrap to make dumplings.

4.

Wrap the dumplings with myoga(Japanese ginger) leaves. Apply cooking oil on hands if sticky.

5.

Heat cooking oil in a pan and place 4.

6.

Cook until both sides turn to a nice golden color.
Information provided by : okayamakenkyodobunkazaidan「okayamanoazi」/tsutaetaimaniwanokyodoryori