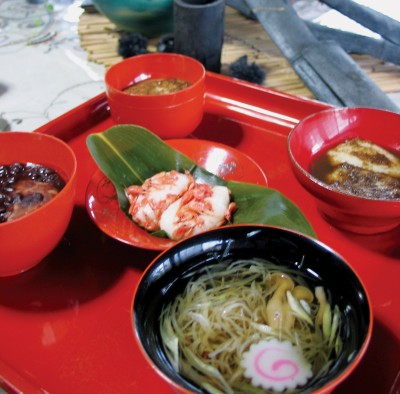 Iwate
A variety of mochi dishes for a variety of occasions
Mochi Dishes
Hanaizumi of Ichinoseki City, Iwate Prefecture, is the home of traditional mochi rice cake dishes. It is customary in the area to pound rice to make mochi to serve to guests, especially during new year celebration and seasonal festivals. The tradition has continued to date – events are being held to hand down mochi dish recipes to younger generations and to demonstrate how to pound mochi. Local ingredients are used for the traditional dish, such as sticky rice, adzuki sweet beans, edamame green soybeans, and shrimps. Three kinds of mochi are always served, and the examples includesweet bean paste, natto fermented soybeans, daikon radish, fusube (chicken and gobo burdock, see the recipe below), and shrimps for weddings; sweet bean paste, ginger, walnuts, and sesame seeds for funerals.

for 4 persons
[ Fusube mochi ]
minced chicken

20g

gobo burdock

200g

soy sauce

3 tablespoons

sake rice wine

2 tablespoons

Cooking oil

as needed

dashi broth

180-250cc

chili pepper

1 pod
1.

Grate unpeeled burdock. Sauté with oil, and add a little water.

2.

Add the minced chicken to the burdock, and mix well.

3.

Add the dashi broth, flavour with soy sauce and sake, add the pod of chili pepper, add freshly-pounded mochi (broken by hand into small pieces) and serve.
*Adjust the amount of dashi broth for softer or harder texture.
Information provided by : Agriculture Promotion Division, Iwate Prefectural Office