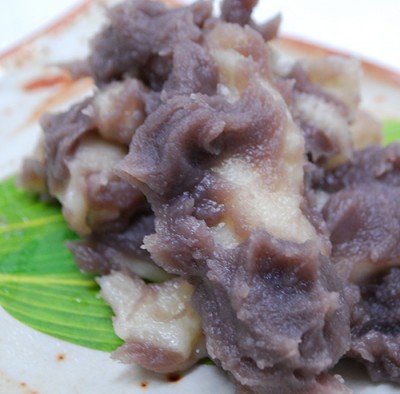 Kanagawa
The hometown snack to which I prayed for the big catch and the perfect state of health transmitted to Sajima, Yokosuka-shi
Herahera-dango
The Ankoromochi dumpling by which water was added to flour and rice flour, the dumpling forged flatly was torn up and bean jam was tied with boiling water in boiled one. I came to be called a dumpling carelessly from the shape that I crushed a dumpling and made it flat. It's the traditional dish transmitted from the Edo Period in Sajima, Yokosuka-shi, Kanagawa, and I pray a big catch and perfect state of health and am offered up in case of the ship festival performed in July every year. Since putting it for Zama-shi Serizawa, it's eaten from the past as farmer's snack. I'm made with each household in case of a ship festival even at present and enjoy a dumpling carelessly by the kinship by which they gather.

for 2 persons
Flour

100g

Rice flour for dumplings

50g

Water

100cc

Strained beans jam

100g
1.

Rice flour for dumplings and water are mixed first, and the flour I screened is put in and mixed from later.

2.

I wet a hand by water lightly, take 1 in my hand and put the one made the size of the thumb large in the hot water which boiled quietly.

3.

If I'm floating,(3) is low flame, 1-about 2 minutes, it's boiled.

4.

I give a boiled dumpling to a basket and drain off water, it's confused with strained beans jam, and, finish.
Information provided by : Local food hundred pieces in rural district and fishing village