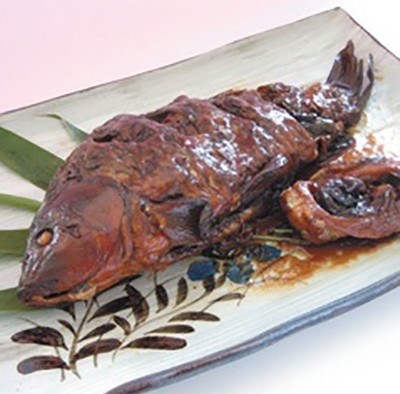 Nagano
The best feast when hosting guests.
Koino sugatani (kanroni)
Koino sugatani was the best dish whenever having guests at home for celebrations, weddings or funerals in Yamaura area in Suwa.

carps (1 to 1.5kg)

2 -3

ginger

1 middle size

sudare (or straws and dashikombu)
[ A for 1 carp ]
sugar

1.5 to 2 cups or less

soy sauce

2 cups

mirin

2 cups
1.

Remove scales from carps, and rinse them quickly with water.

2.

Remove the gallbladder carefully without breaking it, and make cuts on the backside of carp so the flavor soaks into it.

3.

Put A in a pan and heat to boil.

4.

Place sudare or straws in the pan, carps and ginger (cut into thick slices), and cook for 2 to 3 hours over medium heat. (dashikombu can be used instead of sudare or straws)

5.

Add a little water once at times while cooking so the carps are fully covered all the time to get the flavor soaked into carps.

6.

Remove from heat once carps get a luster. Carefully remove carps from the pan, and dish out.
Information provided by : おいしい信州ふーど(風土)ネット