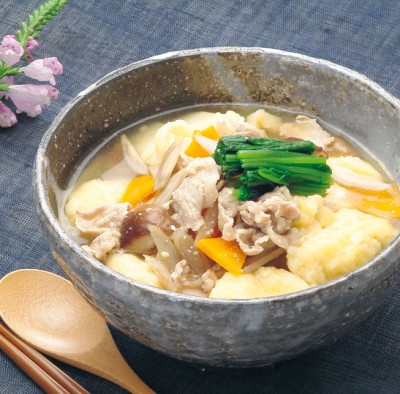 Tochigi
Earthy soup with seasonal vegetables
Suiton
Suiton is a kind of wheat flour dumpling dish which used to be served as a daily meal when rice was scarce. It is also known as Hatto-jiru, Dango-jiru or Tocchanagimochi in some regions. Depending on the season, rice flour may be used to make the dumplings instead of wheat flour.

for 4 persons
potato

80g

carrot

30g

shiitake mushrooms

2

gobo burdock

80g

sliced pork

80g

miso paste

50g

broth

5 cups

Seasonal greens, as needed

little
[ Suiton dumplings ]
wheat flour

200g

egg

1

water

150ml

salt

2g
1.

Cut potato into chunks and soak them in water. Cut gobo into thin slices and soak them in water.

2.

Cut carrot into quarter-rounds, and slice shiitake mushrooms.

3.

Cut pork into bite-size pieces.

4.

Bring broth to boil, add 1-3, and simmer while skimming off the scum.

5.

To make dumplings, beat the egg, add water and salt and mix well, before adding wheat flour.

6.

Season the soup with miso, scoop the dumpling dough with a spoon, and drop it into the soup. Simmer until the dumplings float to the surface.

7.

Serve the soup in a bowl, and garnish it with chopped greens.
*The above ingredients are an example. Use fresh seasonal vegetables.

Information provided by : Tochigi Prefecture Agricultural Advisory Board