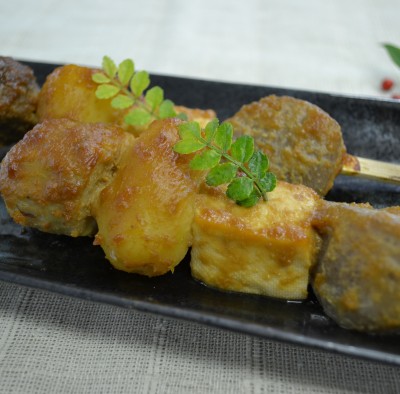 Tokushima
Kushiyaki (skewered and broiled food) of potatoes and soba dumplings from the local.
Dekomawashi
Dekomawashi is a local delicacy of Miyoshishi, Iya area. It is a broiled skewered potatoes called "goshuimo" from the local, soba dumplings, iwatofu and marukonnyaku. It was named dekomawashi because it was looked like spinning a head of a doll of the traditional arts, Awa ningyo joruri called "deko" when cooked, or when people spun and blew freshly broiled hot kushiyaki before eating.

for 4 persons
satoimo

4

goshuimo

4

momen tofu

1/2

marukonnyaku

1

soba flour

60g

water

40g

miso

80g

ginger

1 teaspoon or less

sugar

4 tablespoons

sake

2 tablespoons

water

2 and 1/3 tablespoons

wafu dashi

1 teaspoon

kinome

8
1.

Wash satoimo and steam them, or microwave for 6 to 8 minutes. Once it become soft when tried with a skewer, peel them, and cut large satoimo into smaller pieces.

2.

Boil potatoes and peel. Cut konnyaku into 8 pieces, and boil. Cut tofu into 8 pieces.

3.

Mix soba flour and water, round into dumplings, put them into boiling water and cook for 2 minutes.

4.

For miso sauce, put grated ginger, sugar, sake, water and wafu dashi into a pan, and simmer until it gets thick. Or microwave for 1 minute and mix well, and repeat it 3 times.

5.

Skewer konnyaku tofu, goshuimo, satoimo and soba dumpling into a 18 cm-long bamboo skewer, and broil.

6.

Paste the miso sauce over the skewer, and broil again. Place on aluminum foil, cook for about 15 minutes if using a toaster, for about 10 minutes on a grill over medium heat, or about 10 minutes in an oven at 180℃. Keep checking on them to prevent from overcooking.
Information provided by : とくしまの郷土料理