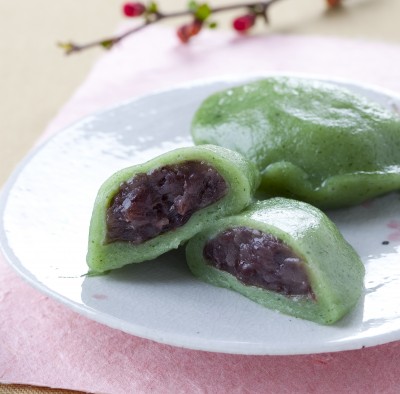 Kumamoto
A well known dumpling dessert with the wonderful scent of wormwood leaves!
Futsu ricecakes (Wormwood dumplings)
The area of Kamoto in Kumamoto prefecture is well known for their love of wormwood dumplings. 'Futsu' is 'wormwood' in the local dialect. Wormwood leaves are at their most fragrant in spring, and can be easily frozen and used year round.

for 10 persons
Sweet rice flour

100g

Rice flour

50g

Rice starch

40g

White sugar

40g

Frozen wormwood leaves

20g

Baking soda

1/4

Water

150cc

Red bean paste

300g
1.

Portion out red bean paste to 30g portions.

2.

Prepare rice starch and powders.

3.

Sift together with sugar.

4.

Defrost wormwood leaves and place in mixer along with 150cc of water. Place on heat and bring close to boil. Add baking soda for beautiful color.

5.

Add 4 to 3 before it cools down. This will ensure soft dumplings.

6.

Tear the dough into 10 pieces and wrap each ball of red bean paste in it. Steam for 12 minutes.
Information provided by : Kumamoto prefecture village building association