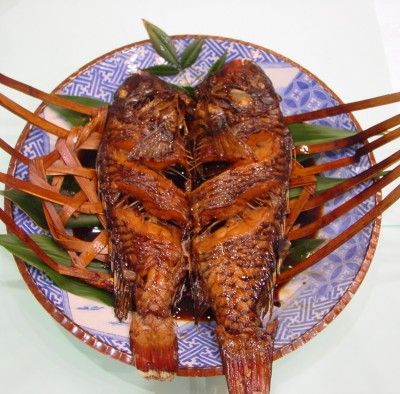 Wakayama
"Igami" is another name for budai
Igami no Nitsuke
Simmered whole fish caught in the Kinan Area. This is a local specialty served for special occasions such as festivals and the New Year. Nikogori is also a specialty served with Igami at times.

igami

2

daikon

1

sheet of bamboo leaf

1

shoyu

200cc

sake

200cc

mirin

200cc

water

200cc

sugar

70 - 100g
1.

Remove scales and guts from Igami, and make cuts.

2.

Cut daikon into 2cm thick into round slices.

3.

In a pan, heat sake to a boil, add shoyu, mirin, water and sugar and simmer.

4.

Place daikon on a bamboo leaf, then daikon, carefully lift the bamboo leaf and put it into the pan with the simmered sauce. (put daikon inside igami)

5.

Simmer it over high heat. Keep pouring the sauce on the fish occasionally.
Information provided by : 和歌山県 農林水産部農業生産局 果樹園芸課