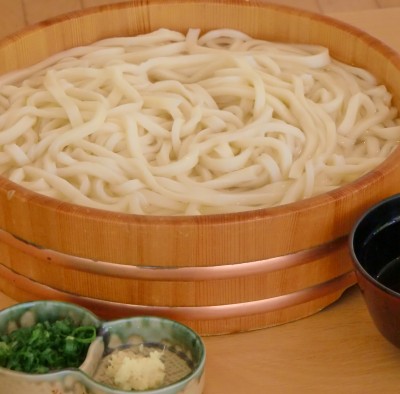 Tokushima
Udon noodles eat in tarai
Tarai udon
Udon used to be a delicacy for "hare" and guests in Donarichogosho where wheat and sweet potatoes were the main crops. Tarai udon was said to originate in a word of then prefectural governor who tasted udon and described it as "in a container like tarai..." at the old imperial palace in 1917. Fresh fish and iriko are used to make dashi for udon, but jinzoku is known as the best ingredient for dashi in the old times. There are only few makers who still use jinzoku, and jinzoku is cooked as shiroyaki to remove the strong smell.

for 3 persons
churikiko (midium-grade flour)

400g

salt

10g

water

160g

egg

15g

udon soup (mentsuyu)

300g

negi

15g

ginger

9g
1.

Shift flour.

2.

Add salt and egg to water, add the mixture to flour little by little, then mix them with fingers until it becomes flakes.

3.

Once the water mixture and flour are roughly mixed, put it all together, and knead until it gets a luster. Once it gets smooth, cover with cling film or wet cloth, and leave for 2 hours in summer, or overnight in winter.

4.

Put the dough in a plastic bag, and step on the dough with feet to make it flat.
Dust the working surface with flour, place the dough on it, and roll it out to 3 to 4 mm thick. Fold the dough like an accordion of 10cm width.


5.

Cut the dough into same sizes of thickness and width. Push a knife from the near side to cut the dough. Dust the cut dough with flour, separate them and make sure they will not stick to each other.

6.

Add noodles into plenty of boiling water (3 litters of water for 200g noodles), stir them, and cook over high heat for 12 minutes until noodles are fully cooked.

7.

Put all the noodles and water into tarai. Serve with mentsuyu, shredded negi and shredded ginger.
Information provided by : とくしまの郷土料理