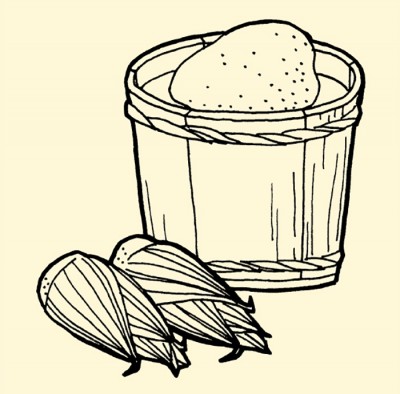 Aichi
A method to enjoy seasonal bamboo shoots throughout the year
Bamboo shoots salted in tofu refuse
Bamboo shoots have been commonly eaten in areas where moso bamboos grow. This is a method of preserving bamboo shoots from autumn to winter. The bamboo shoots turn light black when only using salt, however this method allows them to stay white, become soft, and reduces bitterness also. Desalinating them is necessary when eating the bamboo shoots.


bamboo shoots

3~5kg

okara (tofu refuse)

5kg

salt

5kg

rice bran

Arbitrarily
1.

Put rice bran in a cotton bag. Place cotton bag in water and boil.

2.

Cut off the root from bamboo shoot. Do not remove the skins. Place in the hot water (1.) and boil.
◎Try to boil bamboo shoots as fresh as possible, as oxalic acid, the component of the bitter taste, will increase 2-3 times when 24 hours after harvest.


3.

Take out from hot water after boil. Place in cold water and remove the skins.

4.

Mix tofu refuse and salt well.

5.

Spread some tofu refuse in a container. Place bamboo shoots in a row on top, then cover with tofu refuse. Again, place bamboo shoots in a row on top, cover with tofu refuse and make layers. Put plenty of tofu refuse on the very top. Cover with pressure lid and release the air from the container. Place a weight stone and cover the container completely. Store in a cool place.

◎Approximately 20% of the weight of the bamboo shoots should be the weight of the weight stone.
◎When eating the bamboo shoots, take them out of the container and leave them in 1% salted water for 2 to 3 hours.
Information provided by : Aichi lore cuisine collection