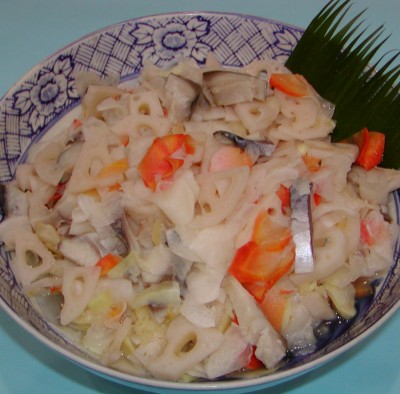 Wakayama
Hospitality dish of Arita area
Kamakuraduke
The local food made in the Wakayama-ken Arita area. When eating the time when a customer is met and Narezushi, it's necessary.

Japanese radish (the inside)

1

Carrot (small size)

1/2

Lotus root

1

Ginger

3 pieces

Salt mackerel

one side

Vinegar

180cc

Sugar

100g

Seaweed

10cm

Salt

a little
1.

Make the Japanese radish and the carrot round slice and then quarter, do seasoning with salt and make them flexible.

2.

Lotus root leave and boil a sense neatly for the hot water in which vinegar was put.

3.

Cut ginger into fine strips.

4.

Cut salt mackerel into thin slices.

5.

(1),(2) puts the material by which(3) is(4) on the seasoning liquid of vinegar and sugar. I also add seaweed of shredding, grow old for about 1 day and eat.
Information provided by : Wakayama-ken Marine Products Division of agriculture and forestry Agricultural production bureau The fruit gardening department