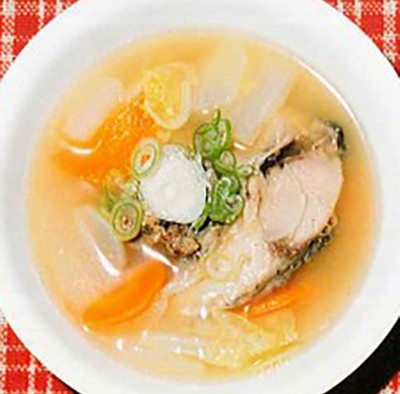 Toyama
Simmered carps in miso to make it easier to eat
Koikoku
A traditional local food of sliced carps simmered in miso. It was named "Koikoku" after the name of miso "Kokushou" which was used for cooking. Fish or meat with strong or peculiar flavors become very tasty when cooked with miso. This food has been widespread in the inland of Eastern Japan.

for 4 persons
carp

4 slices

daikon (cut into quater-rounds)

50g

hakusai (cut into chunks)

100g

negi (cut into small pieces)

1

water

4 cups

miso

70g

seasonal vegetables if desired
1.

Soak carp in slightly salted water for 10 minutes.

2.

In a pan put water, daikon, carrots and hakusai, and heat over medium heat.

3.

Once it comes to a boil, add carp and simmer for a while. Skim off the scum.

4.

When vegetables become soft, add miso to taste, negi, remove from the heat, and dish up on a bowl.
Information provided by : 越中とやま 食の王国