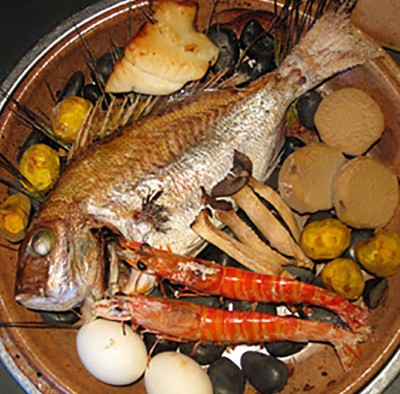 Ehime
A dynamic dish that tells the story of the legendary warriors in the sea
Houraku-yaki
Horoku-yaki, a traditional dish of Imabari, is said to have been eaten by the famous Kurushima warriors to celebrate their victory, and is popular among the locals to date. It is served at some restaurants in the city throughout the year, with fresh seasonal seafood and vegetables. The basic ingredients for this dish is the sea bream from the Kurushima Strait and Japanese tiger prawns from the Sakurai area of Imabari City. It is up to the skills of the chefs how beautifully the dish can be served. The pine needles under the fish add a refreshing scent to the dish. The art of exquisite seasoning by the experienced chefs, simply with salt, provides the perfect balance of tastes.

Sea bream

Kasago fish

Blackhead seabream

Clams

Prawns

Eggs

Lemon juice

Salt
1.

Put stones on an earthenware pan, place the ingredients over them (with the sea bream being the centre of it), cover it with another earthenware pan, and cook it over heat.

2.

Season the ingredients with salt. Find the right amount depending on the sizes and types of the ingredients.
Information provided by : Iyo-Kan Net